26 people and one dog took the opportunity of a cool crisp "day out of the box" to explore the Meola area of Western Springs. We left The Bracken at 1:30pm and met up with more people at the Seddon Fields carpark behind the Auckland Zoo in Motions Rd.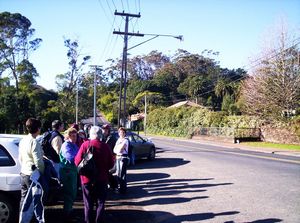 From the carpark we walked across the Seddon Fields to Motat 2 where some of us used the public toilets in the military aircraft shed.


We crossed Meola Rd and entered the Meola Reserve, walking through to Meola Reef.


Meola Reef is the finish of the longest lava flow in Auckland, originating from Three Kings 10km away. It extends out into the Waitemata Harbour almost to Birkenhead, leaving just enough room for the harbour channel. We walked out a short way on to the reef to look at the basalt lava formation and the short mangroves and other plant life growing out of it.


After an afternoon tea break at the picnic table overlooking the reef we returned to Meola Rd along the Pt Chevalier side of the reserve.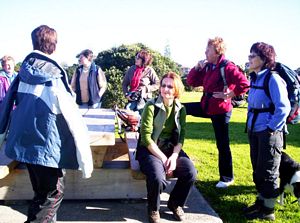 We walked a short way along Meola Rd before taking the Jaggers Bush Walkthrough native bush back to the carpark on Motions Rd.


A few of us left the group here; most of us carried on up the steep Old Mill Rd to the original entrance to Auckland Zoo in Westmere. Two children had a go on the swings.


Turning into West View Rd we stopped to admire some historic bungalow hice whose architecture is unique.