Base map extracted from NZ TopoOnline April 2006. Crown Copyright Reserved.

This trip consisted of two close-together shorter walks which unfortunately are connected by a one-hour 5km round-about walk via central Otahuhu; this was not practical so we drove between the two walks. 15 people came along, ranging in age from under 18 to almost 80.

We left The Bracken at 1:30pm and met up with more people outside the Panama Rd School at 2pm before setting off on our first walk, starting with a roadbash along Panama and Jolson Rds to a boat ramp at the northern end of the coastal strip reserve.


This grassed reserve follows the coast around the south side of the Panama Rd area. We could look out across to Pakuranga and also the Seaside Park peninsula, our second walk.


We took a break at the far end of the coastal reserve on Otahuhu Creek. Linda shared from The Word For Today in what was probably a first for the Club - although devotions have become a regular feature of Saturday tramps over the past few years, this is probably the first time there has been a devotional time during a Sunday afternoon walk.



She took her reflection from the devotions for Wednesday 5 April
http://www.thevine.co.nz/archive/print.php?date=20060405 about how we should trust God more instead of hurry and be too busy-busy. Such things as traffic jams, unexpected phone calls, and other hindrances are part of Godís plan for us - so we should learn to trust Him more, complain less, worry less, and rush less!. Linda told us that she has put this principle into practice, and as a result experiences the peace of God.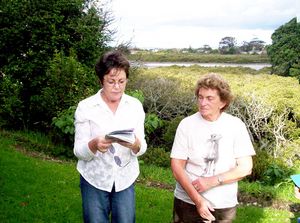 It was a short walk back to the cars via an ice-cream shop, and we were on our way to the second walk, on the Seaside Park peninsula. A few of us, unprepared for liquid sunshine, decided to call it a day when some light showers came on; the rest of us braved the elements to follow the tree-lined coastal path around the edge of Seaside Park.


The rain eased off as the path left the coastline - we could look across to where we had just been on the Panama Road coastal walk. We continued through a recently-planted area that would eventually grow into tall forest to come out to a man-made wildlife pond back on the coast.


We walked around the pond, getting our shoes and knees wet in the tall grass, before finishing back at the Seaside Park carpark about 3:45pm.