28 people came along for a club trip with a difference. Brian Potter led us on an interesting walk around places of historical interest in the central city. We met at Emily Place Reserve at the corner of Shortland St and Princes St at 1:30pm, and Brian spoke about how Auckland began as a city in 1840, and this was the site of the original Anglican church. We went on up Princes St to the Old Government House, which was built in 1856 after the original government house got burnt down. This is now part of the University of Auckland. From there we went on to the historic courthouse still used today, and the site of parliament when Auckland was capital of NZ from 1842 to 1865.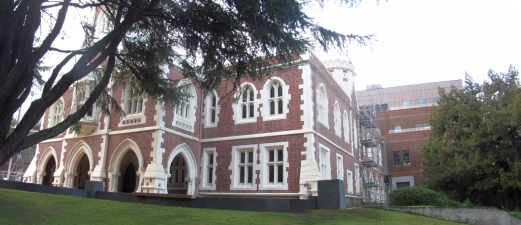 From there we went on to Constitution Hill and down to Beach Rd to follow the original 1840s Waitemata Harbour shoreline along to Fort St and on to Queen St. After a comfort stop at the Britomart railway station we went up Queen St to Wellesley St. From there we went up to Albert Park for our devotions stop near the band rotunda.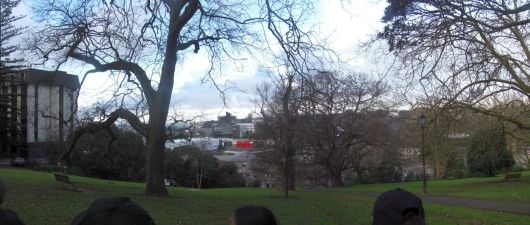 Christine gave a review of the book Letters From The Bay Of Islands - The Story of Marianne Williams. Marianne was a pioneering educator in the Bay of Islands, and a Christian missionary along with her husband Henry. The stories in the book are written by her great great granddaughter in the first person, and relate how they cared about the Maori people, settled their grievances and showed a new way of forgiveness through Christ.

We carried on to Princes St where we could hear a group practising a Maori haka in the university student union building. Our final stop was the remaining portion of the old Albert Barracks wall within the university. The Albert Barracks was a major British military installation that overlooked Auckland from 1847 to 1870. We finished shortly after 4pm.