A group of 22 people went for a walk around the Puhinui Reserve on a gloriously sunny afternoon. We gathered at the carpark at the end of Price Rd at 2:05pm for our intros and prayer, then set off across rolling pasture. We came to a lookout but unfortunately the bottom set of steps had been removed so we couldn't climb it. So we carried on to a viewpoint where we could look out over the coastline, which being a conservation reserve is now off-limits to the public. We returned to the main track and carried on around the reserve, and came to the Bridge To Nowhere, a footbridge with a pipeline across the Puhinui Stream that is blocked at the far end. We turned around and went along the track following the stream, and had our afternoon tea break at 3:15pm.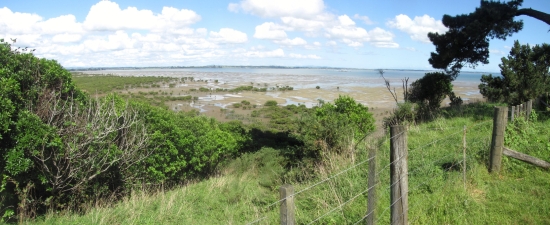 Shane began our devotions by telling us to feel free to talk to someone about Jesus. Every day with Godís Word is an encounter with Him. Each day we have the opportunity to hear or read Godís Word. Shane shared from John 21:1-14 about the risen Jesus meeting the disciples as they were fishing, and after they had got nothing he asked them to cast the net over the other side of the boat and the net was so full they could not haul it in. We come to Jesus with nothing, we contribute nothing to our salvation, it is God who does all the work to give us eternal life. We need Jesus to provide all our needs, then go out as fishers of men, and to open His Word and feed on it. When we come to the living God with nothing, we get everything.



We carried on along the track alongside the Puhinui Stream, with views across to McLaughlins Mountain. Our original intention was to climb it, but when the leaders did their reccie beforehand they found that there was no public access. We finished our main walk at 4:15pm, and most of us chose to do a portion of the Te Araroa Trail going further alongside the stream a short way before returning to the carpark.