Eleven of us set off from Point England Reserve and followed the path around the Tamaki Estuary to Tahuna Torea Reserve, a 25ha wilderness habitat around the Glendowie Spit.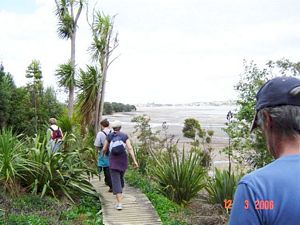 We stopped at the edge of the freshwater pond and spotted pukeko and other freshwater birds but proceeded up to the observation shelter for a 'birds eye view' and Kelvin talked about the history and birds of the area.


We circuited the whole area by initially taking the high track through bush, around wetlands and walked the length of the sandspit as far as we could go, looking out across the channel to Bucklands Beach with views of Rangitoto along the way and Half Moon Bay marina off to the right.


We returned by crossing the mudflats and rejoining the lower path back to the freshwater pond and returning along the path around the estuary back to the vehicles. A pleasant relaxed afternoon in the sunshine (despite a wet morning) with everyone returning at their own pace.

Photos and report by Kelvin and Jan.