24 people turned up at the corner of Rosebank and Roberton Rds in Avondale at 1:45pm. After the intros and karakia we set out at 2pm, following the wide concrete shared path running alongside Oakley Creek all the way to May Rd in Mt Roskill. We dropped down the Waterview Shared Path to the footbridge over the railway line near Pak 'n Save, then crossed New North Rd to go through the Alan Wood Reserve between the stream and the South Western Motorway near the Waterview Tunnel. The prominent footbridge over the motorway gave views of some ponds that were built during construction, and of the stream and a tributary. We carried on following the Oakley Creek through Underwood Park, and we had our break at a shelter that was being built in Walmsley Park.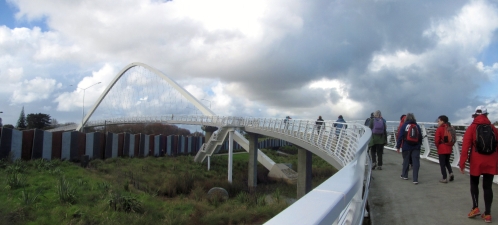 Hua began our devotions with two verses from John 14 - v1 trust God with all your heart, and v14 I am the Way, Truth and Life. She shared from her personal experience regarding her PhD studies at university with some setbacks, finding that she had to really trust God. Hua said that difficulty and tears are no stress, trying to work through the human hurdle by praying that God showed her the way that is above and beyond human difficulty. Now each day she prays for God's mighty power, committing her time to Him.


We carried on through Walmsley Park and crossed Sandringham Rd Extension for a comfort break at the Wesley Community Centre. Some worship music could be heard coming out of one of the rooms. From there we carried on through the War Memorial Park to come out to May Rd, the end of our walk, about 3:55pm. Our return trip back to the start point and our cars would be the same way we came, so one or two of us left the group at this point to bus home.


Distance: 5km one way, 10km return