This consisted of two easy tramps in the lovely Mahurangi area - a walk from Sandspit to Snells Beach and return, followed by a coastal walk to Scotts Landing and Casnell Island. 16 people came along.

We left The Bracken at 8am and met up with three people at Sandspit at 9:30am. For our first tramp we set out into the Sandspit Motor Camp and had a quick look at the pioneer village the camp has restored for its visitors.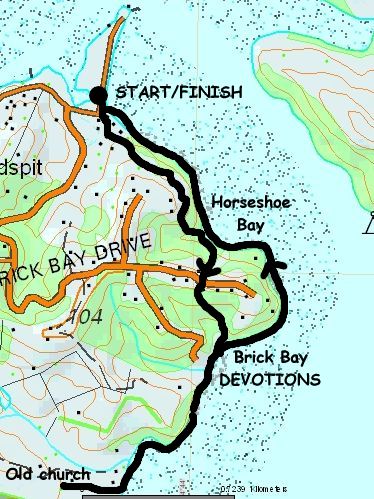 Base map extracted from NZ TopoOnline August 2006. Crown Copyright Reserved.


From the camp we climbed up into the track to Brick Bay. Before entering native bush we could look back to Sandspit wharf.


Soon we dropped down into lovely Horseshoe Bay for a quick stop.


The track carried on to climb up to Puriri Place and coastal views north to Tamahunga and west to Kawau Island and Scandrett Regional Park.


We entered the bush once again to drop down to Brick Bay, our elevenses stop.


Andrew shared thoughts from the In Touch magazine centred on Romans 1:18-21, which tells of Godís beauty and power seen in His creation, and sense of order shown in the seasons. But creation does not show His holiness and eternity; this is revealed in the Bible. All scripture is inspired by God (2 Timothy 3:16). To make Himself known to us, he sent His son Jesus Christ; to know Him better we should spend more time in Bible study and prayer.



We continued along the coast to Snells Beach - the tide, which was right in at the beginning, was now on its way out and we could just make our way around the rocks.



We had a look at an old Presbyterian church in the grounds of Camp Mahurangi, the Salvation Army youth camp which has now closed pending its sale. This historic church had been moved to the camp for use as a chapel, and is due to be moved again, possibly to the grounds of the Presbyterian church in Warkworth.


Next door to Camp Mahurangi was the site of Parklands, in years gone by a popular venue for church and school camps, in years to come perhaps never again.


Our trip back to Sandspit was along the coast all the way; the tide had gone out far enough to allow us to do this easily.


About 1pm we enjoyed a picnic lunch, which we ended up sharing with seagulls, a lame duck and a passing dog.


Then it was into our cars for the drive to the Burton Wells reserve on Ridge Road about a kilometre before Scotts Landing. Before we set out on our walk we could look across the Mahurangi Harbour; by now the brilliant sunshine had given way to threatening cloud.


Base map extracted from NZ TopoOnline August 2006. Crown Copyright Reserved.


A well-formed walkway brought us to the coast, which we followed to Scotts Landing.



As we arrived at the landing, light rain came on, but not really enough for us to put on our coats. We had a look at the outside of Scott Homestead, which surprisingly was a busy hotel back in the 19th century; a far cry from the peace and quiet of today.


Casnell Island is a former Maori pa site easily accessible by foot from Scotts Landing. Everyone except Andrew, Demaris and Jessica climbed up the island following a rough track to the far end where a large pohutukawa stands precariously on a sheer cliff face. A couple enjoying each otherís company over a quiet drink beneath the tree quickly moved on as we arrived.


We returned to the Scotts Landing. Lynley had to go to a meeting so missed out on the second walk, but drove to the landing to join up with us afterwards. She offered to take the drivers back to collect their cars, saving us a roadbash and giving more time at a coffee shop in the main Snells Beach shopping centre to finish our day off. It was Johnís birthday, so a ďcakeĒ was served, being a chocolate biscuit for each of us arranged in a special tray with a musical candle in the middle.