We started at the western entry to Thompson's Track at 9.45 am, arriving at the top of the range at noon on the Saturday. The weather was warm with a cooling breeze. From here, we turned south onto the North-South Track, and after around 40 minutes reached the junction where the new section of the North –South Track continues towards the east, and the old track (to the Kauritatahi Hut) continues south.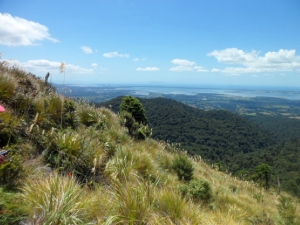 After a 30 minute lunch stop we continued to where the side trip to the DC3 crash site begins, arriving here at 1.45pm. The spot is marked with pink fluorescent marking on a tree, under which someone had carved the words "DC3 site" with an arrow. Someone else had helpfully also put yellow plastic markers along the rough track. This skirts slightly uphill through the bush to a large black dead tree, and you then emerge on an old slip that has regenerating vegetation on it. Following this down on the right hand side, you pick up the true right of a stream, which leads you down to the crash site about 150-200 metres below the cliffs. Here, someone has left a rope to assist the descent into the creek bed, where there is a wing from the plane, and part of a wheel undercarriage, with a bronze plaque on the rock at the left of it. Test that the rope is strong and not worn before descending, as it would be a dangerous fall. This site is actually below the real crash site, as the plane went into the sheer cliffs above it, but most of that debris has been covered (the army blew up the cliff to cover it) and these pieces remain.


Ascending from the crash site, Laurie was very happy to locate a geocache just below the cliffs, about 100metres through the bush. We returned to the junction where the marked tree was, and from there it was 30 minutes on to Kaurotatahi Hut. This has 3 bunks and a makeshift hammock. We spent a comfortable night here – tent space is somewhat limited but Stan and Johanna cleared some toitoi away and found a reasonably flat platform.


Next morning it was misty with a light wind, and we set of at 8.25 am, the same way as we had come in. It took 3.5 hours to descend and we were out by noon. A great trip and well worth seeing.