Twelve of us set off from Auckland 7.15am Saturday 15 September in four vehicles towards Thames for a tramp to Crosbies Hut. Two cars took six to Waiomu and two cars took six to Waiotahi Road in Thames. Both groups started around 9.30am and were at Crosbies Hut by 3.30pm Ė about 5 hours walking for each group plus stops.

Paulís Group: The route from Thames was mostly a gradually rising incline on a broad well-formed track. The original track started as a route for gold miners and then reaches a spur which leads to the main range where we meet the tracks from Kauaeranga Valley and we turn north as the track rises to the hut on a grassy summit at 659m, just above the camp site.

Carlís group: By comparison the route from Waiomu was steep, the track narrow and often through tree roots, so although it was much shorter the walking time was not much different. Some parts were muddy once on the plateau but after a week a dry weather not so bad.

The weather was clear and sunny giving wonderful 360 degree views from the hut: Table Mt and the Pinnacles to the south, Tairua Harbour to the east, Castle Rock (Coromandel) to the north and the waters of the Firth of Thames and the Hunua Range to the west. Crosbies Hut is a 10-bunk hut that requires booking well ahead and we had 10 on the bunks while two slept on the benches (booked as campers). We enjoyed an excellent noodle meal and custard biscuit desert courtesy of Kim and Ruth led a devotions. Ruth spoke of being made strong through our weakness: Heb 11:34, 2 Cor 12:9-10. This was a message of encouragement. It is through our struggles that we develop our strength.

We rose at 6.30am Sunday and after porridge departed at 8am. We had clear views but now under a cloudy sky. Paulís six from Thames swapped keys and continued to Waiomu, while the other six split into two groups of three: one under Carl headed down the track to Te Puru and the other, under Paul C, followed the Waiotahi track to Thames. The Te Puru track was muddy in parts and there were three river crossings near the Te Puru end. At one of these it was difficult to find the track on the other side as the marker was covered by trees causing a 20 minute delay. All three groups exited around 1.30pm and had lunch at the Melbourne Café in Thames.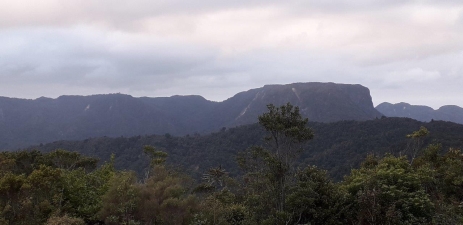 COSTS: $49.73 including driver levy $26.40 (240km @$0.11), hut $15, food $6.33, equipment levy $2.