Fourteen people turned up to explore the Nature Trail at Centennial Park in Campbells Bay. We met in the carpark in from the Beach Rd entrance at 2pm, and before we set off Linda told us a bit about the history of the park. It began as a Kauri forest, as did much of the area. The Park itself dates from 1884 when a 73 hectare recreation reserve was created and named in 1885 as the Takapuna Domain. During WWII the valley was bulldozed to allow for the installation of bunkers and pill boxes. The 40 metre high pines planted in the early 1940s as part of the centennial celebrations completely obstruct what once would have been a clear line of sight down the valley during WWII. When the council in an effort to tidy up the area began to clear away manuka about 1977, two locals Pat and John Morton were quick to protest that what they were clearing away was not 'scrub' but fledgling native forest. This was the beginning of the Centennial Park Bush Society that still functions working in cohesion with the local council to rid the park of invasive weeds and promote the regeneration of native bush.

We followed the Centennial Park Nature Trail looking at the numbered pegs working backwards from 50 to 1. There was plenty of native plant life to be seen as we referred to the brochures on the trail that the leaders gave us - such things as koromiko, dragon leaf, bush lawyer, rimu, kanuka, mingimingi and much more. In one place we could see a pohutukawa tree already in its red Christmas bloom.


Not only were there plants and trees to see, we came to a small pillbox built for World War II as part of the defence against a Japanese enemy that never came. Further on we had a look at a slightly larger pillbox.


Just before we went up to the top end of the park, three of us left to go home as they had other commitments later in the day. The rest of us enjoyed a short at a shelter at the top beside East Coast Road and overlooking the golf course. A group of golfers came up to tee off from in front of the shelter.


We returned down Aberdeen Track following a strip of grass along the southeast border of the park, with views down into the bushclad gully. Further along we dropped back into the gully to have a look at the remaining 25 pegs of the nature trail. There was kahikatea, hook grass, kiekie, hangehange, swamp maire and supplejack to be seen amongst everything else.


We came out to cross the Morton Way drive and climb up to an open grass field where we admired a panoramic view that included the tennis courts, the coast and the Whangaparaoa Peninsula in the distance. One person checked his phone sand saw the current weather given as 21deg and snow showers!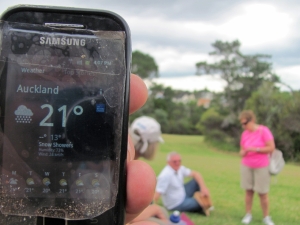 Our walk finished at 4:15pm. Unfortunately Eileen didn't get to present the devotions she had prepared using an article on Creation by Sondra Baras http://www.cfoic.com/sondra/2013/09/breisheet/. The reflection would relate to the God-created native plant life we had been seeing. By presenting creation as two different stories in Genesis 1 and 2, the Bible gives us a complex understanding of the different roles that man plays, both towards God and towards the rest of creation. Man is presented as a ruler, and as someone who creates and maintains relationships. Human man is a complex being – he can rule the world and he can love and care for his fellow man. Two totally different personality types reside in human nature. And both are essential for the survival of the world. If we only love and empathise, we may not take the steps necessary to control the world so that it serves human needs. If we only control and protect, we may lose our ability to love.

COST: travel from The Bracken $4
DISTANCE: 3.8km
MAXIMUM SPEED: 7km/h
AVERAGE SPEED: 2.8km/h