Base map extracted from NZ TopoOnline August 2007. Crown Copyright Reserved

The last Saturday of winter brought out 25 people to walk the coastline from Wattle Bay to Grahams Beach on the south side of the entrance to Manukau Harbour.

We left The Bracken at 8am and met up with more people outside the museum at Waiuku at 9am before carrying on to Wattle Bay. It was soon after 10am by the time we set out from Wattle Bay, carefully edging our way around the rocks on the outgoing tide to Orua Bay as we looked out across the harbour to the Waitakere Ranges. We passed a row of baches hugging the foreshore before having a quick catch-up break near the road access to the beach.


From there it was easy going along the beach below cliffs to come to Big Bay. After a brief stop we continued along around the point to our lunch stop at Grahams Beach.


Andrew shared a devotions from the Word For Today about the names God has given us. Names in the Bible were prophetic, and have meanings. John then read out the names of each of us and their meanings, such as John = God is gracious, Andrew = brave, courageous, Phillip = lover of horses, and Marian = bitter sweet.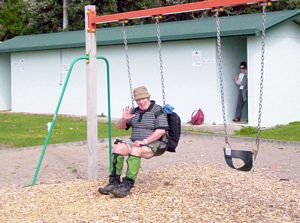 As we carried on towards Awhitu Regional Park we passed a local man starting a bonfire on the beach. Further on as we passed the next headland, some of us decided to squeeze through a hole in the rocks. Afterwards we saw a number of dead fish washed up on the foreshore.


It was generally easy going across the sand and mud flats to Awhitu Regional Park, although in one place we were having to wade up to knee deep in mud.


We came out at the regional park about 3pm, and drivers were taken back to collect their cars from Wattle Bay. Everyone went home having enjoyed a lovely easy coastal walk.