A group of 15 explored the Atiu Creek Regional Park on the Tapora (Okahukura) Peninsula on the Kaipara Harbour west of Wellsford on a nice sunny winter's day. We set out from the carpark just after 10am after our intros and prayer, and spraying our boots for kauri dieback, down the main track to the Woolshed. After having a look at the display sign about the former Chatelenat woolshed, we went on to the Kauri Point loop track where we had views of the calm high tide waters of the Oruawharo River arm of Kaipara Harbour.




It was so wet and mushy underfoot we had to have a stand-up morning tea stop. We carried on through pasture and later had a view of the Courtyard House. From there we went onto the main Oruawharo River Trail, following a gravel farm road to come to our lunch stop at Solomons Bay soon after 12:30pm. Some of us sat at a picnic table while the others sat on an old kauri log that had been there for very many years.

Hua presented devotions in which she said that God turns out what looks messy to us as we plan or prepare, into a tidy provision just as Jesus turned water into wine. We are to thank God for His provisions in everything all the time. We see God's love in every minute of our lives, and a thankyou to Him. Our clothes, our food, our enjoyments, and everything else we have comes from Him.


At 1:15pm we were back on our feet once more, as a touch of very light rain passed over. As we left the end of the gravel road to climb up to Solomons Pa the sun came out again, and would stay for the rest of our tramp. The track continued on skirting the edge of a plantation and coming out to open pasture with views south, and we came back to the carpark just after 3pm. Everyone enjoyed themselves despite the slushiness underfoot for just about all of the tramp, but the sunny weather, views and fellowship made for a good time.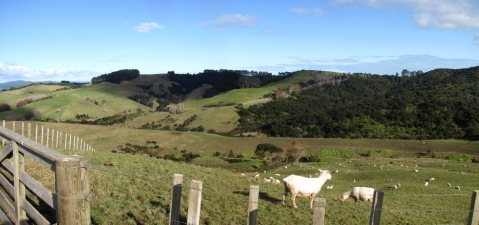 COST: travel from Avondale $18
DISTANCE: 11.5km
MAXIMUM SPEED: 6.4km/h
AVERAGE SPEED INCLUDING BREAKS: 2.2km/h