Thirty people showed up at Ted and Marj's in Browns Bay to take an armchair tour along two of the United Kingdom's great walks, following in their footsteps.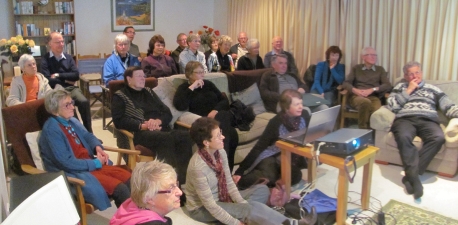 We began at 7:45pm with our walk along the Pembrokeshire Coast Path. Starting at Amroth we followed the coast through urban areas and open fields. There were ruins of old castles to see on the way. The highlight of this walkway a boat trip to Skomer Island to see the penguins and other birdlife.

Our second walk, West Highland Way in Scotland, was introduced with a serenade on the bagpipes. We went through open country with views of lakes and the coast, and we came to the famous Loch Lomond. There were some nice old hotels and bunkhouses to stay in, plus some waterfalls and the remains of an old priory. We continued over a pass with some tarns before dropping down to Fort William and Failte.


After the presentation finished at 8:40pm, Andrew invited us to make donations towards a fundraising bike ride he had been on that morning at Clevedon for the Tear Fund, and many of us put our hands into our pockets. A yummy potluck supper followed.