47 people attended this popular annual Club event, which was once more held at the Eden Community Church. This began at 5pm with drinks and nibbles, and we sat down to a yummy dinner at 5:30pm.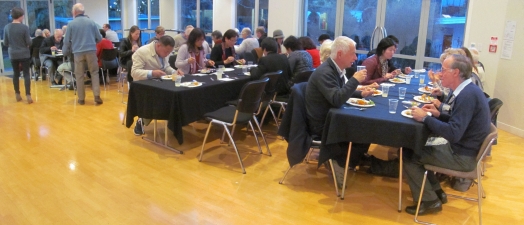 We went into the lounge at 7pm where Paul introduced our speaker Jules who is a club member. Jules has been a Christian singer for over 20 years. He quoted Psalm 92:14 the righteous shall bear fruit in old age. Jules decided to retire a few years ago and considered becoming a photographer, but he felt led by God to keep on going with his singing ministry. Last year he did a 3 month solo tour of Europe and he has just come home from a tour of Scandinavia to share his testimony from a burnout in 2005. He mentioned he was bullied a lot at school. Jules was sharing his testimony not just because he was a kiwi but his story of his recovery from the burnout. He puts down the success of his tours not from the CDís he sold, but the feedback received. This included a woman who was planning to kill herself next day, she went to a church where Jules was singing, and his story saved her life. The woman spoke with Jules next day instead of taking her life. Jules told of the staff at a café that he sang at inviting Muslims to a Bible study, and they came to Christ. Jules sang his own song Run To Me using his guitar, displaying the words on the screen as he did with all his items. His favourite all-time tramp was the Camino Trail in Spain and some walking in central France. Having done most of the big tramps in NZ such as Milford, Routeburn and Waikaremoana, his favourite one was the Kepler Track. Jules sang You Searched Me based on Psalm 39 God knows all about us.



We began our AGM at 7:35pm. The following people were elected by secret ballot confidence vote - Barbara as the new president, Paul vice-president, Jocelyn secretary, Coral treasurer, committee members David, Roger, Murray, Esther, Tina and myself plus Mark who was nominated from the floor at the last minute. Thank you cards were given for those stepping down from Club responsibilities - Peter for looking after food and other involvements, Ali for her work in charge of social events, and Paul for four years as the president. The new exec came forward to be prayed for by Ian. Jules came back to the front to sing a more lively minor-key song of Rivers that he had written for a tour to Eastern Europe last year. Religion is well established there, but Jesus is more to do with relationships and not religion. The song is about rivers of living water within us. God wants us to be filled with the Holy Spirit who encourages, empowers and disciplines us. They that wait on the Lord shall renew their strength. People in Europe were dancing to this song, which is sung in many Pentecostal churches, including many Baptist ones that have embraced Pentecostalism. Jules finished with singing Shalom. We finished at 8:30pm, and the Leila gave an announcement about October 31 being the 500th anniversary of Martin Luther nailing his 500 Theses to begin the Reformation of the Church.