Base map: NZTopoOnline, extracted April 2004, Crown Copyright Reserved

Sixteen people turned up for what is believed to be the Club's first-ever tramp led by a father and son. David Norton was tail-ending while his dad Phillip was up front. A pair of UHF handheld CB radios recently purchased by the Club proved useful in helping the leader keep touch with the tail-end charlie especially when the group was strung out along
the track.

6 people left The Bracken soon after 8am and met up with the other ten at the start of the Parau Track just past the Lower Nihotupu Dam, then we all drove to the start ot the Panto Track 3km further on.


Panto Track was a steady gradual climb along a wide track at first, then narrowing to a normal bush track. We came to two lookouts over the Parau area, but low fog meant all we could see was white.


In one place a rata tree in full flower had fallen across the track.


We eventually reached the junction with Parau Track, then went on to the Nihotupu Ridge Track. This was a bit rougher, but still easy to follow. The fog began to lift, and we had one or two views into the Nihotupu valley.


Our lunch stop was in a flat area at the junction with Summit Track.


Afterwards we climbed up to a summit, the highest point on our trip at 345m, but unfortunately there was no view. Several of us bumped into a wasp nest and were punished accordingly by its inhabitants. The track dropped down to join up with Parau Track, then we went on to Kakamatua Ridge Track. Attached to the track sign was a laminated note from a romance-hungry lone tramper who had met another lone tramper on the Tom Thumb Track near Huia the day after New Year's Day this year.


As we followed the rather overgrown track along a sharp ridge we had occasional glimpses of Huia Reservoir, Goat Hill and Cornwallis with the Manukau Harbour beyond.


We had a break at the next junction before going onto the Farley Track.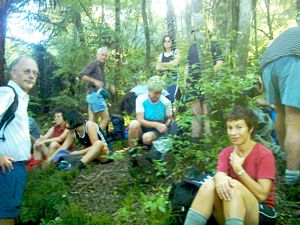 Farley Track sidled down the ridge to cross Karamatura Stream.


A final gentle climb along what was once obviously an old road or farm track brought us back to Panto Track just 5 minutes from the carpark. An enjoyable workout in lovely weather, even though there were very few views - and no doubt some exciting conversation around the leaders' family dinner table that evening!

COST: carpooling from The Bracken $5