After rendezvousing at the Kaiaua/Miranda intersection we made our way to the beginning of the Vining Walkway which is very poorly signed. We then deposited two cars in Workman Road at the beginning of the Mangatangi Trig Track where our tramp would end.


At just before 10am eight of us set off across the farmland in drizzly weather, following the orange markers. Obstacle number one was an electric fence which we had to crawl under. Obstacle number two was a stream to be forded which ensured that the party began the tramp with wet feet, apart from one person (who will remain nameless) who was piggy-backed across the stream! We lost the orange markers about half way to the bushline and veered too far to the left which meant that when we eventually spotted the marker at the track entrance we had to cross another gully and stream and puddle our way through quite a lot of mud before reaching the track entrance where we stopped for a catch-up. It was then a steady climb up the ridge with frequent stops to catch our breath. Three more obstacles in the form of trees fallen across the track were encountered but these were negotiated successfully and we eventually arrived at the junction with the Mangatangi Trig Track. From there it was only 20 minutes to the Mangatangi Trig Although the rain had cleared there was a cold wind and the views were a little hazy. We were glad to find a sheltered spot to have our lunch. It took just over 2 and a half hours to reach the Trig which was fairly good going.


The Mangatangi Trig Track was very pleasant, the weather having cleared, although a little muddy and slippery after the rain. Andrew made a spectacle of himself as he slid rather ungracefully into the mud.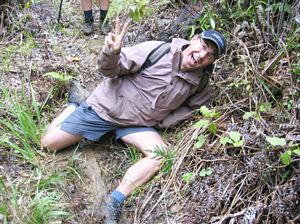 There were pleasant glimpses of the Mangatangi Dam on the way down and at one stage right out to the coast. About half way down the track we heard the raucous screaming of a bird obviously very annoyed at our encroachment on his territory. We eventually spotted a huge white sulphur crested cockatoo on a branch above us. He flew ahead of us and continued his scolding before eventually flying off in disgust! In under two hours from the summit we arrived back at the cars at 3pm and drove back to the beginning of the Vining Track where four departed for home and the rest of us made our way to Miranda Hot Springs for coffee, icecreams and a pleasant soak at the hot pools.

COST: Transport $10; Hot Pools $10.