Base map: NZTopoOnline, extracted September 2004, Crown Copyright Reserved

Nineteen people turned up on a blustery afternoon to have a look at some of the reserves in the Titirangi-Glen Eden area. We left The Bracken soon after 1:30pm and met up with more people at the start of Park Rd behind the Titirangi shopping village, ready to start our walk about 2:30pm.

A climb up some steps behind Lopdell House and a short walk along Kohu Rd brought us to the start of the driveway to Mt Atkinson summit. We took a 5-minute bush track from the start of the road up to the summit, where we had a view out across the Manukau Harbour, another view towards central Auckland dominated by the Sky Tower, and a view from Te Atatu westwards to the Waitakere Ranges.


We returned to Kohu Rd down the driveway, then continued on into Kopiko, Konini and Daffodil Rds and Kawaka St. This was the suburb of Titirangi - instead of more formal lawns and gardens the houses were surrounded mostly by native bush, giving a special beauty to the area.


A short but lovely bush walk through Kawa Glade brought us to an open reserve behind the Kaurilands School.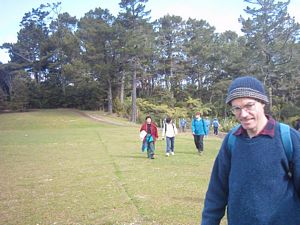 We continued along Atkinson Rd into Konini Domain to follow a track alongside a stream. This went through a short stretch of bush and was muddy in places.


It was 3:30pm when we stopped at Ceramco park for our afternoon tea stop. The wetness of the ground meant most of us had this standing up.


After continuing on around the park we walked back to Titirangi village along Kaurilands and Atkinson Rds, having to dodge a shower of rain during the final climb to the village. We finished our tramp at 4:30pm with icecreams at the village to cap off a lovely afternoon walk.

COST: $3