Eight people ignored a miserable weather forecast and headed down to Tirau for an interesting day that included walking the Te Waihou Walkway, having lunch at the Castle Pamela and enjoying the retail therapy opportunities of the township.

We left The Bracken at 8am for a quick run down State Highway 27 (the Matamata straight) to Tirau. After a brief comfort stop we went on to the start of the Te Waihou Walkway at Leslie Rd, and left cars at the start and finish of the track.



Base map: NZTopoOnline, extracted October 2004, Crown Copyright Reserved


The Te Waihou Walkway is a local community project for the millennium celebrations, following an unusually crystal-clear stream that is entirely spring-fed, the waters believed to have seeped through the porous subterranean aquifers from the Mamaku plateau over a period of 50-100yrs.


We set out across farmland and soon came to the crystal-clear stream. Very impressive under grey skies, would look heavenly on a bright sunny day.


About 20 minutes into the walk we came to the Blue Spring, the source of about 67% of the bottled water one can buy in shops all over the country. A viewing platform gave a view of the crystal-clear waters without the surface reflections.


As we followed a short boardwalk past the Blue Spring we could hear the lovely music of a couple of ducks swimming on the waters.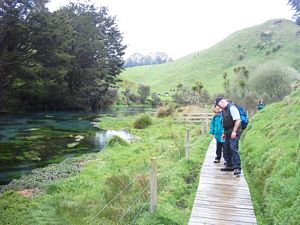 And so on into the gorge section, following the stream as it became more of a rushing torrent, cascading over rapids in places.


Later the track opened out into more rolling country, and we had a rest under a large tree. Linda S shared some thoughts about beauty as mentioned in the Bible. In Exodus the garments worn by the priests were made for glory and beauty organised by God; Psalm 27:4 talks of living in God's presence each day, delighting in His beauty and glory, and responding with a sacrifice of joy; Proverbs 31:30 says that beauty and charm can be vain, there must be a godly beauty; Isaiah 53:52 prophesies that Jesus would have no stately splendour, and that there is more to Jesus than any beauty one could see; 1 Peter 3:3-5 commands us to be beautiful on the inside with the lasting charm of a gentle quiet spirit precious to God. After a short time of prayer we concluded our devotional time by singing the well-known praise-and-worship song Beauty For Ashes.



At this point we were about halfway down the walkway, and we came to a section that had been replanted in native trees that would eventually become a patch of forest.


We continued on to come out to the lower carpark about 1:15pm. Once the car left at the start of the track was fetched, we went back into Tirau to have lunch at the Castle Pamela tearooms. A large puppy dog kept us company at the table.


One of us decided to have a look at the toy museum while the rest were happy to indulge in retail therapy at the selection of antique, jewellery and craft shops of Tirau. On display in the museum were dolls from 1890 to the present, and a display of Royal Albert classic china which many a lady of years gone by would daintily entertain their friends to afternoon tea. There was also a huge selection of toys taking people of all ages back to their childhood - Meccano, building sets, Hornby clockwork trains, Pedigree dolls, toy soldiers, cardboard houses, Micro Models, diecast steel cars and trucks, a ball-frame (abacus) used for teaching maths in school, Chad Valley metal puzzles, nursery rhymes, Rupert Bear, Harry Potter, Barbie Doll, Spice Girls, Shirley Temple and much more.


The antique shops were also excellent museums of nostalgia.



After coffee at one of the township's cafes, we were away (complete with proceeds of retail therapy, some of which was done with Christmas in mind) by 4pm headed back along State Highway 27 to Auckland, arriving back at The Bracken at 6pm giving people time to shower and change for Gary's 5oth birthday party, to which all Club members were invited.

There were over thirty people at the party, including a large number of Club people. This took the form of a pot-luck dinner with BBQ meat provided. After Gary cut the cake, many of us set our feet a-dancing to Beatles, Abba, disco, rock 'n' roll, limbo (using a broom) and the Hokey Tokey complete with 1930s music. It was about midnight when the last of the guests departed for home and the wentilillo.

COST: travel $24; Castle Pamela toy museum $8.