Friday

We left The Bracken at 6:15pm, and stopped briefly at the BP/McDonalds beside the motorway just past Papakura for our Eat While You Travel dinner, which we ate as we headed onto State Highway 2 then State Highway 27 on our way to Tauranga.

Our base for the next two nights was the Silver Birch Holiday Park. We had a block of cabins beside the edge of the estuary and behind the office and entrance.


Saturday - Kaimai Ranges; smorgasbord hotel dinner


Base map: NZTopoOnline, extracted September 2004, Crown Copyright Reserved


Heads were off wentilillos by 6:30am as the sun rose on a lovely early spring morning. We had to bring the cutlery and crockery provided in each cabin to eat our breakfast in the communal kitchen. At about 8am we were away to Hot Springs Rd, about halfway between Tauranga and Katikati, and our day's tramping in the Kaimai Ranges.

It was 9am when we set out on the Tuahu Track, a well formed track that gradually climbed through bush to the main dividing ridge of the Kaimai Range.


Further up, we crossed a landslip where we could look out to Matakana Island and Mt Maunganui.


We had our elevenses break at the track junction on the main dividing ridge at 10:30am. Paul shared some thoughts he had picked up at a Kingdom Builders conference he had been to just a few days before, about how the primary reason of the Fall of Man is our tendency to autonomy instead of being dependent on God; this is the root cause of the world's problems such as the severe water shortages in parts of Asia and India where a sinking water table may herald a huge crisis. What we should do when we confront a problem, that we can not control is to take it to God and also do what we can do, such as influence politicians, etc. Referring to the Bible, Paul said that Nehemaiah saw a hopeless situation building up, and through his persistence, trust in God and help from other people he was able to rebuild the walls of Jerusalem. He concluded by reading a Word For Today devotions, where we should value God's opinion more than any other opinion, seek God before making important decisions, replacing selfishmess with the fruits of the Holy Spirit (Galatians 5:19-23), and modelling our lives on that of Jesus.


The North-South track running north of the junction was rougher but still clearly defined with no tricky stretches. The occasional clearings of grass and stretches of barbed-wire fence were testimony to how farming had reached the top of the Kaimai Ranges on days gone by.



The track followed an undulating course along the main divide to come to a junction. We took a track to the right that led to the Te Rereatukaiha Hut just five minutes further on, arriving there about 12:30pm. This made a nice sheltered spot for our lunch, out of the cold wind we had on the ridgetops. To the south we could look down to the Waikato in the hazy distance.



Afterwards, we carried on a short distance along a flat ridgetop before a long and steeper descent followed by an undulating stretch to come to a junction with a track to Wharawhara Valley.


We continued on the main track, dropping steadily. The sole on one of the boots of one person in the group was quickly coming off, but with the assistance of some insulating tape from one of the others, the boots made it to the finish before being consigned to the rubbish bin back at the holiday park.

As we carried on downhill, the group was surprised several times by a certain mysterious creature that pounced out, giving the front people quite a fright! The beast has been identified as a Tyrannosaurus rosserous - however, people tramping in this area at any time have nothing to fear, only one of this species is known to exist, and this particular fully-clad specimen of a teaser has been known to leave the Kaimai Ranges once our group was out at the carpark, having crossed a stream for a final 5-minute climb. We were out about 3:45pm.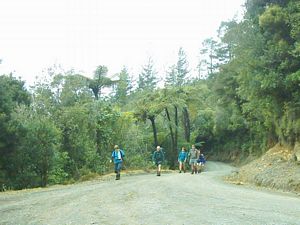 The thermal pool back at the holiday park made a welcome respite from our day's workout. Later we donned our glad rags and headed to Bureta Park Motor Inn for a yumptious smorgasbord dinner. The $13-50 we each paid as we entered the hotel's dining room allowed us to eat as much as we like from a wide range of soup, mains and dessert.


| | |
| --- | --- |
| | |


Those who came in the van returned directly to the holiday park; Gary, Peter, Linda and Sonia drove to the Tauranga waterfront for a coffee and a lovely waterside walk.


Sunday - Otanewainuku; Waikareao Estuary

Heads were able to stay on wentilillos a little longer; we did not have to be up so early. It was pleasant to eat our breakfast outside the kitchen area in the sunshine.


A lovely rainbow in the morning - shepherd's warning?



Base map: NZTopoOnline, extracted September 2004, Crown Copyright Reserved




Our first walk for the day was to Otanewainuku, a half hour drive from Tauranga towards Rotorua along back roads. Before we set out John D read from Micah in the Bible, which refers to mountains. The summit of Otanewainuku is on a loop track; we chose to go clockwise. The well-formed bush track followed a level to undulating course through lovely podocarp forest with some fine kahikateas and other trees, as a light drizzly rain began to set in.




Later the track climbed up to the summit, where a group of army territorials had built a viewing tower. We had to imagine the panoramic view that would be seen from this vantage point, including the Kaimai Ranges, Rotorua city, Horohoro Bluffs, Mt Ngongotaha and Mt Tarawera, with the help of descriptive signboards made by an artist using coloured plastic signwriting films. The tower also provided shelter for a snack break.


The return walk was along the ridge, dropping steeply in parts, to join up with the other track just before the finish at the carpark. A brief shower of heavier rain came on as we came out of the bush. The DOC shelter beside the carpark also made a good place as John D opened up the world's greatest book once more to share about reconciliation. Micah 6:8 tells us to be fair, just and merciful and walk humbly with God. Philemon describes how a runaway slave was reconciled to his master. John D had gleaned a whole screed of truths from Ephesians - just as we had just stood on a high place (Otanewainuku summit), we as born-again Christians are seated in heavenly places. We are God's praise and glory; the Holy Spirit is our mark and seal till our redemption - we were originally destined for destruction. Because we are seated alongside God we are Christ's ambassadors. Therefore we should be thankful, and love one another. Our spiritual change should reflect in a social change, where we reconcile with God and with one another. John D told us of how he felt a burden lifted when he took the initiative to contact and make up with a friend he had fallen out with and had not spoken to for four years.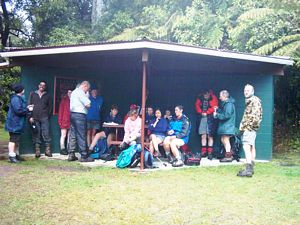 Back in our vehicles, we headed back to Tauranga and the home of John D in Otumoetai for lunch, which we had prepared back at the holiday park after breakfast.


| | |
| --- | --- |
| | |


Base map: NZTopoOnline, extracted September 2004, Crown Copyright Reserved


John D then led us down a track from near his home into a gully to join up with the Waikareao Estuary Walkway.


Highlight of the estuary walkway was a long boardwalk winding its way through the mangrove flats, allowing one to appreciate the fauna and flora of the intertidal zone.




The track then went through McArdles Bush, following the coastline. Just before the finish we could see Mt Maunganui ahead in the distance.



The van met us at the finish, and after a quick call into John D's home we were on our way homeward, this time via Waihi and Paeroa and the Karangahake Gorge. We stopped at Paeroa for icecreams, and were back at The Bracken about 6pm, concluding a typically wonderful weekend of exercise, fun and fellowship.

COST: $80 (travel including van hire; breakfasts, Sunday lunch; cabin accommodation); hotel dinner Saturday night $13-50.