The popular annual Summer Tramps Reunion event this year attracted about 55 people to go tramping the tracks at the south of the South Island with those who did these tramps over the Christmas holidays; not only trip participants nostalgiaing these events of one month ago, but also many people who went elsewhere or stayed home through the
holidays.

The event started off with the usual BBQ dinner at the Carey Baptist College in Penrose, same venue as for last year's reunion. Drinks were available as we began to browse photograph albums various participants had put together.


A delicious pot-luck BBQ smorgasbord had stomachs filled just as quickly as a buffet meal at a hotel, but without any alcohol.


Before we moved into the chapel ready to do our tramping, Peter Y read out A Toilet With a View, made up during the summer tramps..


Once in the chapel, we put on our laptop projection boots and set out first of all on the Borland Track, the warm-up track that had been cut short by one day due to worsening weather. Then on to Tuatapere we went, to tramp the spectacular Hump Ridge Track with its ridgeline boardwalks amongst huge rocky outcrops and alpine terrain. The group who had tramped this track made up a song to the tune of Under The Boardwalk.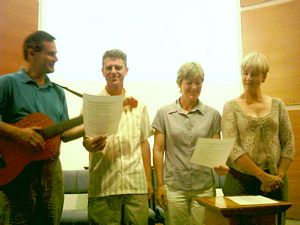 The Dusky Track was the most challenging and longest of them all, with heaps of mud, fantastic views from the saddles, and 21 3-wire bridges, plenty of material for For Love Of Mud, with Roger reading out the verses and the rest of the gang reciting the chorus.



The Famous Five led us along the Routeburn and Caples Tracks with its spectacular alpine scenery and beauty.



We adjourned to the dining room for the best skit of the lot, a wine contest put on by the Dusky group, culminating in Judge Helena passing out drunk and being dragged away!


Back in the chapel once more, boots on again, we walked the Milford Track before we turned our thoughts to the One who made all these tramps and the fantastic scenery and beauty. Phillip spoke about the dawn chorus of birds in the forest, a chorus of praise to God each daybreak from His creatures. His challenge is - are we part of the dawn chorus of praise to Him each morning, a chorus waving its way around the world as it turns on its axis? Phillip then gave a vote of thanks to John D who did a marvellous job of cleaning up and washing, drying and putting away all the dishes single-handed! Then for his own efforts Phillip was presented with the Golden Boots.


Off went the boots, homeward went the cars, and fifty-five heads hit the wentilillos after such a wonderful and interesting evening.