Base map: NZTopoOnline, extracted July 2004, Crown Copyright Reserved

Okura Bush Walkway is always a popular tramp and a perennial favourite, this time being no exception with a total turnout of 38 people.

5 of us left The Bracken at 1:30pm in one car and met up with the remaining 33 at the end of Haigs Access Road in Redvale, the southern end of the Okura Bush Walkway. We then set out, crossing a footbridge and climbing up into native bush skirting the northern side of Okura Creek.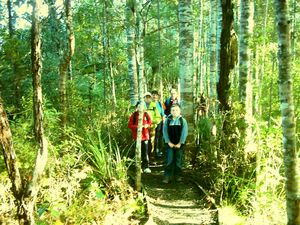 We eventually dropped down to the sandspit a little over halfway between the start and Dacre Point, and had a quick rest stop.


From there we continued along the coast on the beach as the tide was out. It did not take us long to go around the Dacre Point headland into Karepiro Bay and the historic Dacre Cottage. This was our afternoon tea stop; the brick cottage itself was heavily boarded up and padlocked, with a proclamation explaining that vandalism had brought about this and threatening trouble for future vandals.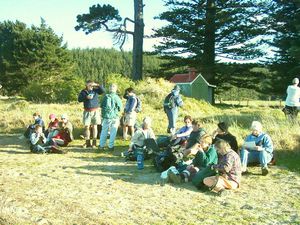 On the way back, we had the choice once we reached the south end of Karepiro Bay to go back the way we had come along the foreshore, or climb over the headland along the walkway to the sandspit. Only eight people, led by John and including an 8-year-old boy, decided to do the climb, the remaining thirty opting for the flat foreshore.


A long wooden staircase took us from the beach to the top of the headland.


The track then skirted pine forest before entering native bush to drop down to the sandspit. The people in the uphill group could look down to the tidal flats below and hear the others walking around, glimpsing one or two of them in places.


The foreshore group made it to the sandspit well ahead of the uphill group, and the last ones came out to the carpark by about 5:30pm.

COST: travel from The Bracken $4