Base map: NZTopoOnline, extracted May 2005, Crown Copyright Reserved
This map shows the oxidation ponds as they were in 2001 before they were decomissioned and dismantled.

Just two months before, a brand-new walkway around the edge of the Manukau Harbour where the oxidation ponds used to be was officially opened; this goes from Ambury Park through to the Otuataua Stonefields. The track will eventually be part of the Te Araroa trail that will link Cape Reinga with Bluff.

Eleven people ignored the lunchtime rain to walk this track, blue sky coming out as we headed from The Bracken at 1:30pm to Ambury Park.

We arrived at Ambury Park about 2pm, and while cars were being placed at the end of the track we had a look at a sheep shearing demonstration in the farm shed. Was the music from Classic Hits 97FM meant to pacify the sheep for their annual haircut?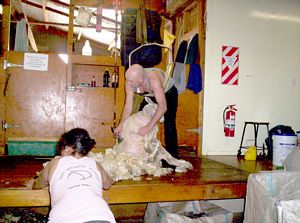 It was about 3pm when we set out along the walkway, there having been a delay of some kind in placing the cars. The metalled level foot track went out from the Ambury farm to the coastline, then went inland towards the drying beds landfill. We were lucky to escape passing showers; we were reminded that God would never flood the world again as He did at the time of Noah.


The grass-sown landfill was being browsed by heaps of birds. Ventilation tubes allowed gases such as methane and hydrogen sulphide generated inside the landfill from rotting material to escape; we could faintly smell the gases as we passed each vent.


The track came to the coast once more; we could look across to Puketutu Island, a lovely place but strictly taboo to the public.


We went around a lagoon set in an old volcanic crater; itself just a few years was one of Mangere's infamous oxidation ponds that were notorious for perfuming the surrounding atmosphere.


We stopped for a break before continuing past Watercare's wastewater treatment plant. The introduction of new technology using germ-killing ultraviolet light did away with the need for extensive oxidation ponds.


The track came out to the access road to Puketutu Island, time for another very quick break before going along the edge of the area where biosolids from the treatment plant are disposed of.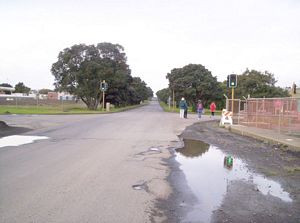 We went alongside some pine trees before coming back out on the coastline once more.


It was 5pm when we came out to the Otuataua Stonefields end of the walkway. Unfortunately we did not have time to explore the track going along the edge of these historic stonefields, let alone go into them; but nevertheless we had a wonderful time exploring one of Auckland's newest walking trails.

COST: $2-50.