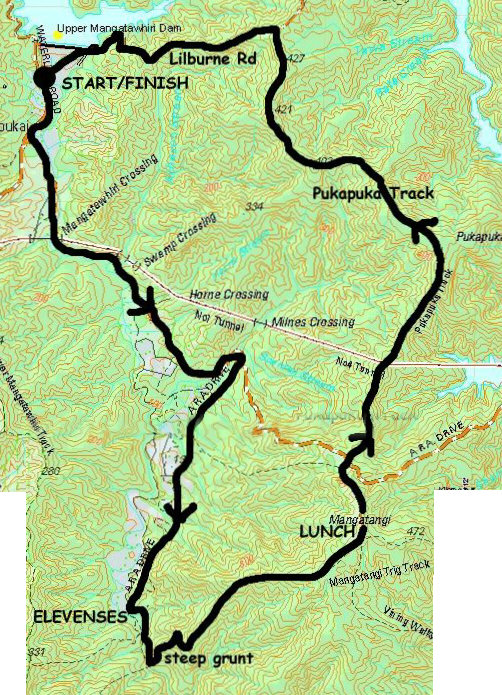 Base map: NZTopoOnline, extracted May 2004, Crown Copyright Reserved

Twelve people completed what could possibly have been the longest distance tramped in a Club day tramp - 19km (or just 2km short of the half-marathon) - in a long and strenuous trip through the water catchment area of the Hunua Ranges, an area strictly forbidden to public access just ten years before.

From the carpark below Mangatawhiri Dam we set out about 9:15am, starting with a roadbash of about 5km along the Mangatangi Hill Rd.


A further 2km along a vehicle track brought us to our elevenses stop at the lower Mangatawhiri campsite.


Just before the long grunt up to Mangatangi Trig we passed a small Watercare weir across the Mangatawhiri Stream.


The 3km climb up Mangatawhiri Trig began with a steep climb on a recently-maintained track, with one or two very short and slightly tricky bits. The track later became more gradual, with one or two ups and downs, eventually coming out at the junction with Vining Track. About 20 minutes further on we arrived at Mangatangi Trig, the first ones about 12:30pm, for a well-deserved lunch break.


Peter shared an illustration he had shared when it was his turn to give devotions on the track during the summer tramp to Tasmania. He grew up in the UK, where the constellation Orion had got its name from its appearance in the sky as a hunter. In New Zealand the constellation appears upside down, to resemble more of a cooking pot, or in the eyes of the Maoris a bird snare.


We set off at 1:30pm down the steep road to the Mangatangi Hill Rd and the start of the Pukapuka Track.


It was 2pm when we set out on Pukapuka Track. Every half-hour we stopped to group up along this bush track with hardly any views that follows the dividing ridge between the Mangatawhiri and Mangatangi catchments on an undulating course. At one of these stops a presidential mouth organist put on a small performance.


The signposts say that the Pukapuka Track takes 4˝ hours, but we completed it in three hours including the grouping stops, coming out to Lilburne Rd by 5pm. Just before the track reached the road we had a view of Mangatawhiri Reservoir.


The sun was setting as we headed down Lilburne Rd to the Upper Mangatawhiri Dam, reaching our cars just as darkness completely fell. 24 tired feet were pleased to rest in the cars and 12 tired but very satisfied souls would later rest their heads on wentilillos for a good night's shuteye.


One lady walking near the back of the group on the Pukapuka Track was really amazed by the help and encouragement given by her fellow trampers when having difficulty coping with the long and strenuous track that was a bit rough in places.

COST: $7