A group of nine people turned up to climb Mt Hakarimata from Ngaruawahia and tramp part of the Hakarimata Walkway. We left the Bracken in two cars soon after 8am and headed down to Ngaruawahia in the north Waikato.

It was 10am by the time we set out to climb Hakarimata on the track from the town of Ngaruawahia. At first the track followed a delightful stream gully.


We took a rough side track to have a look at the town's old water supply dam.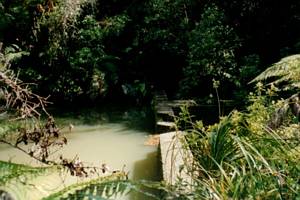 A long steep grunt followed. We were glad of a rest stop near a large kauri tree about three-quarters of the way up.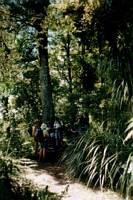 As we carried on upwards, we could look out and see the town of Ngaruawahia way below us.


We reached the summit of Hakarimata at 11:30am and enjoyed our lunch in a sunny grass clearing sheltered from the strong southwesterly wind. Unfortunately the bush had grown up and we could not get much of the view from the summit.


After lunch we headed south along the Hakarimata Walkway as a light shower began to pass, following an undulating ridge to the junction with the track to the CYC camp, then became a steady downhill. In one place we stopped to admire a nikau tree that was not growing straight upwards.


Further on we had a rest break, and Max told us about safety devices that we often have to use, and how unfortunately they can at times malfunction. Even a GPS can fail. But we do have a really top GPS in God, but really how often do we use it? We need to check up with Him continually otherwise we will go rusty - eg. if we get lost in the bush, do we ask God first?


We soon dropped down to follow a stream and came out to the Waingaro Road about 3:30pm.


We had a 3km roadbash back to Ngaruawahia, with an ice cream stop on the way. We were back at our cars by 3:15pm, then we went on to the Waingaro Hot Springs to soak away our tired legs.


On the way back to Auckland we stopped at Pokeno for munchies, and were back at The Bracken about 7pm having had a very enjoyable day.


COST: travel $16; hot pools $6.